We celebrated the boys first birthday party on Sunday. Their actual birthday isn't until Friday but celebrating a weekend early was best for family.
We ordered pizza and had lot of deserts. My parents, sister's family, and Joy's mom all came.
We spend the afternoon trying to get the boys to nap. It did not come easy. For starters, the boys stayed up later the night before so they slept in a bit.
Jacob got up around 8:50am and was barely awake. I took him on the couch and we watched a couple episodes of Spongebob Squarepants.
Eventually, I heard Jasper moaning slightly in his crib. It was 9:30 and time to get up. I thought he was going to be standing in his crib, ready to get out. However, he was still laying on his stomach. I took him and eased him into waking up.
Shortly after, Joy and her mom were up. Joy made waffles for all of us from scratch and Joy's mom fed them breakfast.
The boys were still tired, so around 11, I put the boys down for a nap with bottles. A few minutes later, I heard Jasper crying. I went into their room to find Jacob passed out and Jasper trying to stretch on his stomach but his bottle was in his way. I moved the bottle and he saw me and wanted out of his crib.
I took him to the couch where we watched Mary Poppins while Joy and her mom got ready for the party. We watched Mary Poppins for about 45 minutes with no luck of sleep. He was calm but not falling asleep.
Joy and I went on a car ride with him but he seemed to wake up more as he found things to play with on his car seat.
We got home to find Jacob had gotten up. So Joy's mom took Jasper and Joy took Jacob.
As Jasper got more wild with grandma, I took him and tried to rock him to sleep in their bedroom. He was not happy, so Joy took him in our bed where she finally got him to sleep around 2:15.
Jacob was happy and didn't seem like he was gonna go back to sleep so he played around. He screamed of joy and pounded on doors. Surprisingly not waking up Jasper.
I changed his diaper and grandma came in the room. He went from hyperactive to laying his head on my leg and stared at grandma sleepily. Joy took him and he fell back asleep after 3.
4:00pm hit and my parents and sister's family arrived. The boys were still sleeping but woke up shortly after. I thought they would both be in shock with people over but they dug it. They warmed up very fast.
It wasn't long before they were playing on the floor, trying to open presents and see what everyone was doing.
Joy put on Scene It- party mode for anyone to play in the living room.
My parents had gotten them both big bouncy balls and the boys were playing with them by hitting them and chasing them. Also picking them up. They get a lot of enjoyment out of them.
They opened presents. They were more interested in the wrapping paper, ribbon, and boxes rather than the presents they got. It was fun watching them open. Jacob would lift both his hands up high and then bringing them down to pound on the boxes. It was really cute. Joy and I switched off from camera and the video camera.
After presents the boys ate pizza, completely on their own. They did a great job at eating. They love pizza.
Joy made the boys cupcakes. We gathered around the table with the boys in their highchairs below a Happy Birthday banner their grandma had made them and sang happy birthday.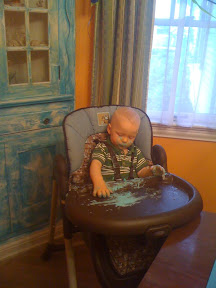 Jacob was not shy about getting into his cupcake. He got the frosting all over his face. It looked he had face paint on. He then ate his entire cupcake.
Jasper was a little more reserved with his cupcake. He was probably wondering why everyone was watching and taking pictures of them eating.
I set the video camera up on tripod next to them. Jasper would look up and make faces to the camera.
After they ate, they got to wear some new really cute t-shirts they had gotten and play. They joined Uncle Jim and cousins as they were playing Scene It on tv and played more with the balls they had gotten.
They also enjoyed being held and played with by the family. They had a really great birthday party. They enjoyed everyone's company.
For their birthday on Friday, we hope to go to zoo and Joy plans on making them each a little cake.