We had our first vacation with the boys last weekend. We, including Joy's mom drove 9 hours to Asheville, North Carolina to spend the weekend in a cabin.
We left Friday morning around 4:30am. We hoped the boys would fall right back to sleep in the car but they were up for awhile. It didn't help that I was in the backseat goofing with them a bit. Jacob was really interested on what was going on and Jasper was laughing.
They were really great in the car. There were no big freak outs. They got a little antsy as we got closer but it was nothing the Mary Poppins soundtrack couldn't fix.
We had directions to Emma's rd but we needed directions to Emma's cove. Emma's road took us to a scary backwoods mouton area. We were relived when Joy discovered the problem.
The cabin was really nice. It had two bed rooms, a loft, kitchen, living room, big porch over looking a creek. The place was called Mountain Springs.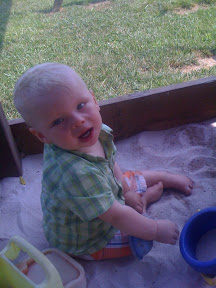 The boys loved discovering things around the cabin. They were able to get into the lower kitchen cabinets and get out pans and various other kitchen objects. They also enjoyed the fireplace, which we had to constantly get them away from.
Outside, they loved running around the big porch and we let them play a little bit in the creek.
Also outside was a large field with a play ground. They both loved playing in the sandbox. Jacob loved getting in and out of the sandbox. Jasper loved having the freedom to run around the field. On night, I played the "I'm gonna get'cha" game with him as he tried to run away laughing and falling.
Friday night Joy, I and the boys headed into downtown Asheville for a drum circle. The city was awesome. Very musical, a lot of street musicians. We also watched the Marine Corp band play too. They were doing a big concert.
I think the boys were tired and weren't that into the drum circle. We tried to get them to clap their hands or saw "ahh" but had no luck.
Saturday we went to a family picnic. Joy's aunt got ordained as a minister and they had a whole bunch of family get together for a picnic at someone's house. The boys loved playing with their cousin Elizabeth who also adored the boys.
Sunday, we stayed around the cabin. Joy's mom watched the boys while Joy and I got inter-tubes and hung out in the creek.
That night the boys weren't feeling too good and we thought they got sick. So instead of leaving in the morning we left at 11pm and drove all night.
Joy and I took turns driving and trying to sleep in the car. The boys did pretty good in the car but we has to play Mary Poppins a bunch.
We got home and the boys seemed to be feeling better. I called the doctor's office but by then they seemed fine. Joy's mom watched them while Joy and I took a nap. Then when they took a nap we all took another nap.
Our first vacation was a success! Joy did great at planning it all out and doing everything. The boys were angels. Isn't traveling with babies supposed to be crazy!?