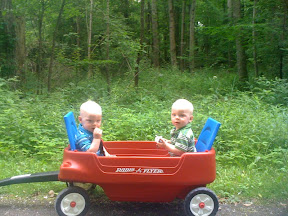 The boys have learned to climb. Jasper can now climb onto the couch. He is so proud of himself, he wants to do it all the time. The only problem is that he wants to climb up and jump. So this week we have been constantly informing him that he needs to "sit on his booty." I think it's getting better but still scary that he would fall and break something.
Joy had gotten rid of one of their toy boxes in living room. She kept the big trunk full of toys. So now both Jacob and Jasper managed to climb not only into the trunk but on top of the trunk and holding onto the couch. The trunk is located on the back end of the couch.
Over the weekend, we took the boys to toys r us to spend birthday money from their great grandma. We got them bought stuffed dinosaurs which they loved to pieces. They now have them in their cribs.
Jacob is really into helping with cleaning. He loves to play with our broom and when he has a rag he wipes things. So while we were at the store we bought him a toy broom. We didn't think Jasper would be too into it so we got just one for them to share.
Then we got home and Jasper loved the broom! The boys had a fight over causing us to go back to toys r us to grab another broom.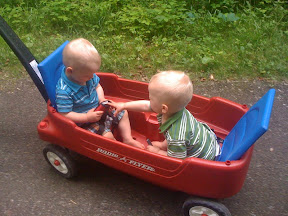 Father's day was relaxed but we did manage to go to the cuyahoga valley national park for a walk by a lake. We spend most of the day at home. I think we all were beat after the vacation the weekend before.
- Posted using BlogPress from my iPhone