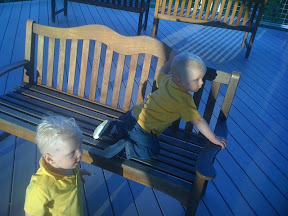 Monday we headed to the nature realm after dinner for some walking around. When we got to the path we set them down to walk on their own with one of us closely behind or next to each.
Jacob did the sweetest thing. He was walking with Joy and they started holding hands as they walked. It was really sweet seeing then walk in front of Jasper and I holding hands.
I tried to hold hands with Jasper. He responded by going down to the path and crawling. I did get to hold his hand for a few second though.
Joy and I switched kids and I got hold Jacob's hand for a bit.
The boys love the nature realm. Jasper pointed to trees when I asked. They both enjoyed picking up little stones and throwing them on the path.
I really enjoy taking them to the park, especially after work. I'm not really looking forward to fall and winter coming.
**note: the picture is from our visit to nature realm previous week
- Posted using BlogPress from my iPhone