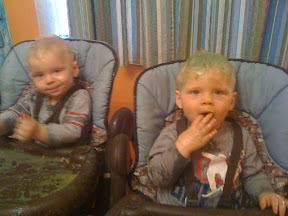 This week Joy made the boys pudding paints to play with. They are just pudding and food coloring so it's totally safe for them to eat. We didn't get to see them the first time they played with them. She left them with her mom as she watched them while we did a bikeathon. Luckily Joy's mom took pictures.
One night this week though, Joy gave them the paints after dinner. They loved it!! Jasper put them in his hair and Jacob spread them all over his tray and even wall. They both had a blast and even smiled for pictures.
This week, we also had our first broken window. Luckily, Jasper wasn't hurt as he was protected by the curtains. When we got the window fixed we had them put in plexiglass. It was a little more pricey but worth it. My mom said she had to do that for us because we were always pounding on the windows.
Today, we took the boys to the zoo and let them walk around themselves. They did really good! They didn't even complain when it was time to go.
Their favorite book right now is What Will Fat Cat Sit On. They crack up when I read it because there is emphasis on the word "no" and I shake my head. They have been getting into night time stories. Sometimes they're sit right next to for them. Other times they run off but I read anyway.
Joy is working hard upstairs on the boys play room. She is painting/drawing now. It's going to be Canadian themed. We bought a play house and play grill for it. Last Saturday we both insulated it better. It was crazy but it should help keep it warmer up there during the winter. This is going to be there Christmas present, so shhh!
Right now, I'm in the boys room hoping they will nap.
- Posted using BlogPress from my iPhone