We celebrated the fourth (or actually 3rd) of July by going Blossom to see the Cleveland Orchestra and fireworks. We hand lawn seats and for some reason I didn't think there would be as many people there as there were. The place was packed! Somehow we managed to get a spot right behind the pavilion.
We had the boys in their wagon and we brought snacks to munch. It was really fun hanging out, listening, playing, and eating. The boys did really well through the first act.
While the orchestra took a break Jasper started getting antsy. So we moved near the back. We couldn't hear the orchestra play when they returned. The boys started fighting over water bottles so eventually we moved to a spot where we could let the boys walk around. They really dug getting to do some free range playing but got upset when they wondered too far.
At 10pm, the fireworks stated. I was worried that they would get scared but nope. It helped them calm down after being upset about being "gotten" again. Jasper was very interested in the fireworks. Jacob couldn't decide if the fireworks or the little girl with the balloon were cooler.
The boys fell asleep on the ride home and were out all night!!
For the actual fourth of July, we picked up grandma and went to the Akron zoo. We spent a good amount of time there. The zoo wasn't as crowded as you'd think.
We parked them in the wagon next to the penguins and one penguin was swimming and by boys. They got a big kick out of it, more than the last time.
We went inside some of the buildings this time. We saw bats and the jellies. It's the last year for the jellies. I'm sad to see them go. They are one of my favorites.
We headed back home and the boys took a nap. We had a cook-out and then went and got the boys a sandbox. The boys had a nice surprise when they woke up.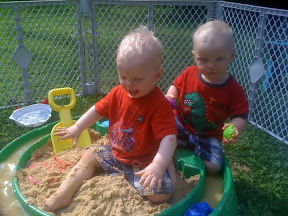 It took them awhile to actually go into the sandbox but they loved putting sand in the little water canal around the sandbox. Joy had made them a sand castle after we set it up. Jasper knocked it down eventually. They loved playing in it.
- Posted using BlogPress from my iPhone